Monin Fruit Puree - Passion Fruit (1 Litre)

5 reviews
SKU: PUMO006A
Gluten-Free
GMO-Free
Dairy-Free
see full description ...
Reviews for this product
Rated 5 out of 5 based on
5 reviews on

---
read reviews
---

5

0

0

0

0
Quality:

Value:

Taste:

Reviews for this product
Rated 5 out of 5 based on
5 reviews on

read reviews

5

0

0

0

0
Quality:

Value:

Taste:

What customers think
"Amazing!!!"

"Great for pornstar martinis"

"Amazing to add to a passion fruit royal or a porn star martini"

"Great flavour perfect for cocktails and slushes "

"Delivered on time "

Key product features
1 x 1 Litre Fruit Puree - Passion Fruit
Gluten Free
GMO Free
Dairy Free
Native to South America, passion fruit is now cultivated in tropical and warm regions around the world, where it is very popular. So popular, in fact, that the fresh fruit is not always easy to find outside those regions. In Hawaii, passion fruit (referred to as lilikoi on the islands) is often consumed as juice.
MONIN Passion Fruit Purée is a highly concentrated, pre-sweetened and shelf stable purée made with the highest quality fruits and natural flavours for optimal taste and texture in speciality beverages.
Tasting notes: Aromatic, with sweet fruity notes reminiscent of mango; sweet and lightly tart tropical flavour similar to guava and mango
Colour: Orange Yellow
Applications: Smoothies, cocktails and mocktails, lemonades, iced teas, sodas, desserts and dressings
Tips: A natural fit with citrus drinks; popular mixed with rum and cachaça. 
In the culinary realm, it is used in cheesecake and other desserts; also great with dark or white chocolate. 
Suggested garnishes include citrus wedges and twists, tropical fruits and/or passion fruit pulp if available.
May be used with cold milk, not recommended with hot milk

Smoothie :
Take 12oz glass
Add 60ml Monin puree
Add 90ml milk or yoghurt
Fill glass with ice
Transfer to blender and blend
Pour back into glass and garnish
Cocktail:
Using a cocktail shaker
Add 30ml Monin puree
Add 40ml vodka, gin or rum
Add 10ml lemon juice
Shake and strain into 4oz cocktail glass

Once opened, keep refrigerated.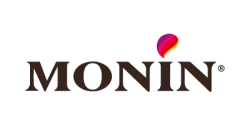 Why shop with Nextdaycoffee.co.uk?
Competitive pricing
Fast, reliable delivery service
First class customer service
Safe and secure shopping
Ethically committed
We pride ourselves on long-standing and positive relationships with our suppliers, who are all committed to our ethical trading policy
Got a question?
Our friendly team of staff are always happy to help with any queries you may have.
01698 842528
Customer reviews
Rated 5 out of 5 based on
5 reviews on

---

(5)

(0)

(0)

(0)

(0)
---
Quality:

Value:

Taste:

Amazing!!!
October 6, 2020 by Evelyn.c LTD Evelyn.c LTD

Quality:

Value:

Taste:

---
Great for pornstar martinis
April 30, 2020 by Sam Otter

Quality:

Value:

Taste:

---
Amazing to add to a passion fruit royal or a porn star martini
November 4, 2019 by Laura Cox

Quality:

Value:

Taste:

---
Great flavour perfect for cocktails and slushes
July 15, 2021 by Joanne Fosher

Quality:

Value:

Taste:

---
Delivered on time
January 7, 2022 by Annmarie

Quality:

Value:

Taste:

---