ISI Profi Whip Cream Whipper 500ml

1 reviews
SKU: WHIP001
see full description ...
---
Reviews for this product
Rated 5 out of 5 based on
1 reviews on


1

0

0

0

0
Quality:

Value:

Taste:

Reviews for this product
Rated 5 out of 5 based on
1 reviews on


1

0

0

0

0
Quality:

Value:

Taste:

What customers think
"i am a novice cream whipper but recognise a good coffee topper when i see one and this is luxury! i ..."

Key product features
ISI Profi whip cream whipper 0.5L / 500ml
Brushed stainless steel design
Tulip Tip & Star Tip included
Dishwasher-safe
Fast and easy to use
Product information
This ISI Profi whip cream dispenser creates pure whipped cream, flavoured cream and delicious desserts. Yielding up to twice the amount of whipped cream in comparison with other whipped methods. The ISI Profi whipper is perfect for use in coffee shops, ice cream parlours, pastry shops and more.

Designed for professional use, the ISI Profi features a stainless steel bottle and head with silicone grip and removable stainless steel valve for easy cleaning.
Common Questions
Q. How do use this product?
A. Simply fill your profi with pre-made mixture, attach an ISI Charger and use.
ISI Profi 500ml Specification:
SKU

WHIP001

Barcode

9002377016302

Brand

ISI

Material

Bottle: Stainless steel
Whipper head: Stainless steel, POM, silicone, nickel-plated brass, PU
Head gasket: TPE
Decorator tip: Stainless steel, PP
Charger holder: Chrome-plated zinc die casting
Removable piston: POM, NBR, stainless steel
Cleaning brush: Stainless steel, PA

Hot of cold application

The Whipper is only suitable for cold applications.

Storage

The unfilled Whippers must be stored in a dry place at temperatures between -20°C and 50°C.

Traceability

The Whippers are labelled with a batch number on the bottom of the bottle as well as on the underside of the head.

Allergens

No allergens

Weight

970g

Certificates

Complies with European Regulations 1935/2004 and 10/2011

Approx Dimensions

9.5 x 31.1 x 8.8 (cm)

Country of Origin

China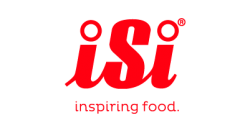 Why shop with Nextdaycoffee.co.uk?
Competitive pricing
Fast, reliable delivery service
First class customer service
Safe and secure shopping
Ethically committed
We pride ourselves on long-standing and positive relationships with our suppliers, who are all committed to our ethical trading policy
Got a question?
Our friendly team of staff are always happy to help with any queries you may have.
01698 842528
Customer reviews
Rated 5 out of 5 based on
1 reviews on

---

(1)

(0)

(0)

(0)

(0)
---
Quality:

Value:

Taste:

i am a novice cream whipper but recognise a good coffee topper when i see one and this is luxury! i bought the n2O cartridges from amazon so haven't used ISI ones and it works perfectly. easy to use, easy to clean, very sturdy, lovely to hold and nice to use. 500ml one makes enough cream for 8-10 drinks and keeps well in fridge
January 2, 2021 by Ann Rumble

Quality:

Value:

---