12oz Double Wall Cups - Matt Black (500)

11 reviews
SKU: CUMB002
Double-wall insulation
Stylish and strong disposable cups
Made from sustainable resources
Due to demand this product has been temporarily limited to 2 per customer.
see full description ...
Reviews for this product
Rated 4.8 out of 5 based on
11 reviews on

---
read reviews
---

9

2

0

0

0
Quality:

Value:

Taste:

Reviews for this product
Rated 4.8 out of 5 based on
11 reviews on

read reviews

9

2

0

0

0
Quality:

Value:

Taste:

What customers think
"There are small holes at the bottom of 4% of them"

"Excellent quality "

"Good sturdy cups, highly recommend"

"Excellent product, good value for money"

"Excellent Excellent Excellent"

Product specification
|

12oz Double Wall Cups - Matt Black (500)
Product weight
17.2g per cup, 9.8kg per case
Product dimensions
90 x 60 x 110 mm
Packaging
Virgin Food Grade Paper Board
Serving Size/amount
12oz / 341ml
Accreditation
Manufactured in a BRC certified facility
Key product features
12oz double walled cups (500 cups)
Matt black design
Made from high-quality food-grade paper
Stylish matt black double-wall insulation disposable cups - keeps your hot drinks hotter for longer, whilst remaining cool enough to hold comfortably.
These 12oz Matt Black Double Wall Paper Cups really do have a quality feel to them and quite simply look great.
Made with paper from a fully sustainable forest. Ensuring that all paper materials used are fully renewable. We would encourage you, as our customer to recycle your disposable paper cups when possible.
Each cup is printed with a batch number ensuring full traceability through our supply chain to the manufacturing process.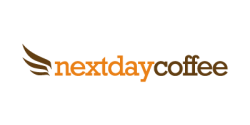 Why shop with Nextdaycoffee.co.uk?
Competitive pricing
Fast, reliable delivery service
First class customer service
Safe and secure shopping
Ethically committed
We pride ourselves on long-standing and positive relationships with our suppliers, who are all committed to our ethical trading policy
Got a question?
Our friendly team of staff are always happy to help with any queries you may have.
01698 842528
Delivery info
Customer reviews
Rated 4.8 out of 5 based on
11 reviews on

---

(9)

(2)

(0)

(0)

(0)
---
Quality:

Value:

Taste:

There are small holes at the bottom of 4% of them
March 19, 2021 by Hamid

Quality:

Value:

---
Excellent quality
June 9, 2020 by Georgina Clarke

Quality:

Value:

---
Good sturdy cups, highly recommend
October 20, 2019 by Lindsey Grice

Quality:

Value:

---
Excellent product, good value for money
June 1, 2019 by Georgina Clarke

Quality:

Value:

---
Excellent Excellent Excellent
January 24, 2019 by Chris Pope Sunderland Golf Centre

Quality:

Value:

---