Funkin Passionfruit Fruit Puree 1kg
Bartenders choice
Made using real fruit
Suitable for vegans
Made with the ripest passion fruit from the sun-drenched farms of Ecuador.
see full description ...
Product specification
|

Funkin Passionfruit Fruit Puree 1kg
Storage Instructions
Store at less than 20C
After Opening
Once opened, keep refrigerated and use within 10 days
Product dimensions
Height: 240mm; Width: 130mm; Depth: 90mm
Shelf life
Best before date printed on the rear of the pouch
Serving Size/amount
Maximum use of 18g for a 150ml beverage
Ingredients
Passion fruit 90%, sugar 10%
Recyclable
Yes. Join the Funkin pouch recycling scheme
Nutritional Info
Funkin Passionfruit Fruit Puree 1kg
per 100ml
Energy
468 kJ / 110 kcal
Total fat
0.5g
Total Carbohydrate
22.0g
Sugars
22.0g
Protein
2.2g
Salt
0.06g
Key product features
Funkin passion fruit puree 1kg
Made with sun-drenched passion fruit from Ecuador
Bartenders choice
Perfect for commercial or domestic use
Suitable for vegans
No artificial colours or preservatives
How does the perfect pornstar martini start its life? It begins with the ripest passion fruit on the sun-drenched farms of Ecuador. Condensed into a natural fruit purée that packs a punch – adding it to your cocktail recipe is effortless. Just pour, enjoy, reseal, and repeat.
This high-quality puree is made with all-natural ingredients. The convenient pouch features an easy-open spout and is a hassle-free solution for making cocktails. 
Preferred by professional mixologists, this Funkin puree mix is great for creating perfect cocktails and is the ideal choice for bars, restaurants or other events. 
The convenient pouch is easy to use. Once opened, keep refrigerated.
Get involved with the pouch recycling scheme. Find out more about how to recycle your used Funkin pouches.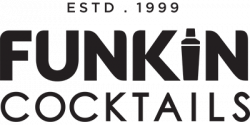 Why shop with Nextdaycoffee.co.uk?
Competitive pricing
Fast, reliable delivery service
First class customer service
Safe and secure shopping
Ethically committed
We pride ourselves on long-standing and positive relationships with our suppliers, who are all committed to our ethical trading policy
Got a question?
Our friendly team of staff are always happy to help with any queries you may have.
01698 842528