4 x 10 Sachets Per Box (40 sachets total)
Individually Wrapped
Decaffeinated

Freshly Roasted & Packed
Lyons 'Decaf Dreams' Decaffeinated Coffee Bags - Ideal for that after dinner, special occasion, or for those who want a delicious coffee flavour without the caffeine.
Lyons Coffee bags combine the heritage of the Lyons brand (108 years young!) in a format which fits in with the hectic everyday lifestyle.
A beautifully balanced, rich, full-flavoured coffee. Bring some continental flavour & flare to your table.
Top tip: carry an individual sachet in your bag, in the case of a coffee emergency, break the seal.
Great real coffee in a bag, how simple is that? Just add some hot water to a bag of Lyons coffee & allow to brew for 3-4 minutes, …a little dunk, …a little squeeze, …a lot of satisfaction.
Perfect for individual use, whether you are on the go or at home and you don't want to get the coffee maker out.
at work - pop them in your pocket or bag and take them to work, for that perfect coffee moment
just you - then enjoy that perfect Lyons fresh coffee taste without having to get the coffee maker out
in a rush - coffee bags, as quick and easy as tea bags but with that perfect Lyons fresh coffee taste
on holiday - UK or abroad, camping, travelling, sailing, picnics, take Lyons coffee bags with you
use anywhere - all you need is a mug and a kettle!
Lyons Decaffeinated Coffee Bags create a delicious coffee that can be enjoyed at any point in the day. Whether you're relaxing at home or enjoying a refreshing break at work Lyons Fresh Ground Coffee Bags are the coffee for you.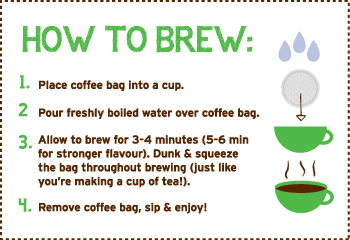 ---
Customer Reviews